Bitcoin has stuck to the $37,000 level over the past 24 hours while ether slid.
Bitcoin (BTC) trading around $37,275 as of 21:00 UTC (4 p.m. ET). Gaining 2.4% over the previous 24 hours.
Bitcoin's 24-hour range: $36,010-$37,536 (CoinDesk 20)
Ether (ETH) trading around $2,397 as of 21:00 UTC (4 p.m. ET). In the red 1.8% over the previous 24 hours.
Ether's 24-hour range: $2,377-$2,492 (CoinDesk 20)
Bitcoin sentiment mixed
Bitcoin, the world's largest cryptocurrency by market capitalization, was up Friday by 2.3% as of press time. The price was above the 10-hour moving average and the 50-hour, a bullish signal for market technicians. 
The price of bitcoin climbed from $36,038 at 01:30 UTC (9:30 p.m. ET Thursday) to $37,536 by 11:45 UTC (7:45 a.m. ET) Friday, a 4.1% gain on some rocky trading patterns, based on CoinDesk 20 data. Bitcoin then lost a bit and is at $37,275 as of press time.
Relatively stable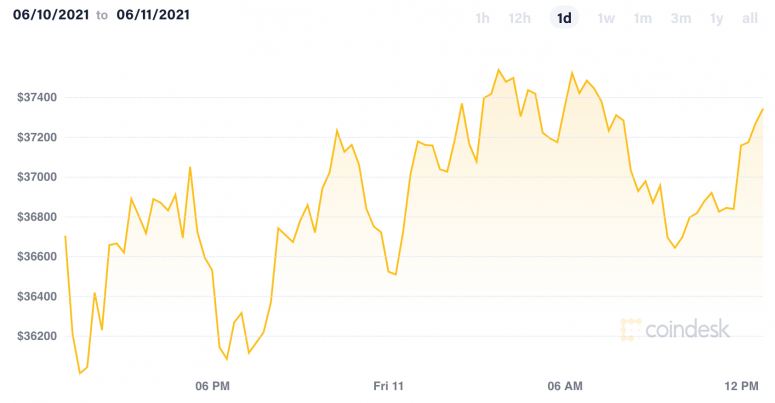 A 4% price ride for bitcoin Friday is actually relatively stable for the asset, which can often see double-digit gyrations on weekdays. Constantin Kogan, a crypto investor and founder of investment community BullPerks, believes the recent mix of news developments is leaving traders without a true market direction.
"Speculators are fighting," Kogan said. "China pulls the market down but the rest of the world is actually bringing more positive sentiment." Concerns from China, including Asia-centric Binance losing USD access via Silvergate Bank's network, are getting offset by El Salvador's adoption of crypto, described by a Bank of International Settlements official  as an "interesting experiment."
Bitcoin's volume resurgence
Over the past month, there were 18 days where ether's daily trading volume surpassed bitcoin's. However, on Wednesday and Thursday this week, BTC returned to the top. On Thursday, bitcoin's trading volume was at $43 billion total on spot exchanges, 26% higher than ether's $33 billion. 
David Russell, vice president of market intelligence at brokerage TradeStation Group, says it's hard for the crypto market to ignore bitcoin as the long-term bellwether. 
"Investors putting the marginal dollars to work are favoring bitcoin," Russell said. "Additionally, altcoins like ether typically perform best after bitcoin has rallied. Strength in crypto often focuses on the biggest name." 
Read More: BlockFi Retail Account Balance Increased Fivefold in Past Year, CEO Says
Ether slips as derivatives go quiet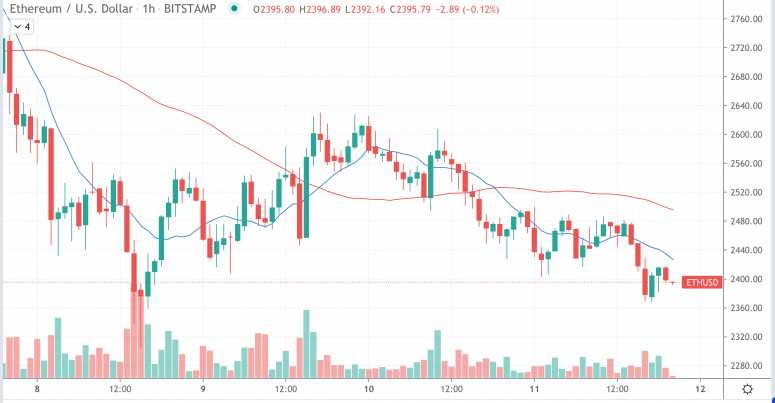 Ether, the second-largest cryptocurrency by market capitalization, was trading around $2,397 as of 21:00 UTC (4:00 p.m. ET), losing 1.8% over the prior 24 hours. The asset is below the 10-hour moving average and the 50-hour, a bearish indicator for…


Read more:Market Wrap: Bitcoin Flat at $37K as Investors Tangle With Bulls and Bears - CoinDesk