The technology-heavy Nasdaq is set to outpace other stock market indexes at the open on Thursday, ready to recover from a more than 2% slide since the beginning of this week.
While investors keep pouring money into Big Tech stocks, individual investor favorites continue to suffer. And cryptocurrency prices may be a key reason, according to strategist Ben Onatibia's team at investment research group Vanda, in our call of the day. 
Individual investors remain the major buyers of Big Tech stocks as prices move lower. Of the $870 million spent on single stocks on May 4, roughly 28% went to S&P tech companies like Facebook
FB,
-1.05%,
Amazon
AMZN,
-1.25%,
Apple
AAPL,
+0.20%,
Alphabet
GOOGL,
+0.34%,
Netflix
NFLX,
-1.41%,
and Microsoft
MSFT,
-0.53%,
according to the team at Vanda, with major tech funds recording massive retail inflows as well. 
Not only does this point to individual investors are buying the dip, but it suggests that institutional investors are partly responsible for the selloff, as they cut their exposure to tech in favor of commodities and financials.
But "tech supremacy has also crowded out investments from other speculative stocks," Onatibia said, with individual investors showing much more hesitation about buying the dip in the likes of cannabis or clean energy stocks. The team at Vanda believes this environment is likely to persist, especially given the poor performance of widely held stocks like Apple and Advanced Micro Devices
AMD,
-0.99%.
One of the key preconditions the team at Vanda said is necessary to "bring the mojo of fallen retail angels back" is a correction in cryptocurrency prices. According to Onatibia, prices of stocks like Tilray
TLRY,
-1.24%,
Virgin Galactic
SPCE,
-4.13%,
Plug Power
PLUG,
-1.26%,
and NIO
NIO,
-0.58%
have been inversely correlated with cryptocurrencies in 2021, and this is indicative of a rotation among individual investors. That is a crucial relationship.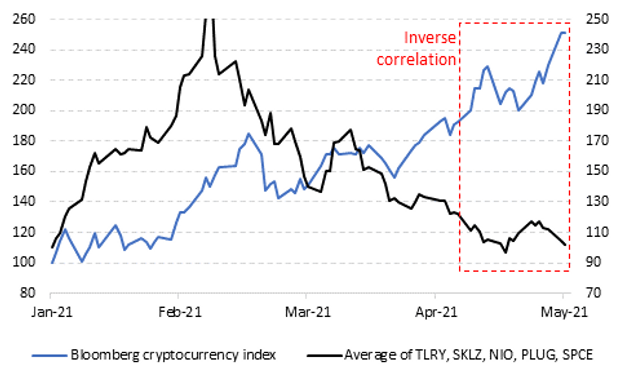 "Investors in [environmental, social, and governance-focused stocks], electric vehicles, and a host of other highflying sectors will need to pay full attention to developments in the crypto world," Onatibia said. "A significant correction is all they may need to get some of their lost appeal back."
When the price of bitcoin
BTCUSD,
+1.82%
sank following the…


Read more:Cryptos and stocks like NIO and Tilray are crucially linked. Here's what you need to