Crypto at a glance
Was that the dip? Just when it looks like you're going to be able to buy crypto at a huge discount, bam! Yet another corporate giant starts buying and it's back up we go. Can the recovery now be sustained? Is $50,000 the new bottom for BTC?
After Monday's drama saw Bitcoin plunge to as low as $45,000, a stream of good news yesterday has since seen the leading cryptocurrency bounce back almost immediately and it's now stabilised above $50,000 again.
First, in a huge show of confidence, Square announced the purchase of $170 million worth of Bitcoin – adding a further 3,318 to their previous 4,709 bitcoin purchase last year. This means 5% of Square's total cash is now stored in Bitcoin.
Then there was more good news with the settlement of a long-running legal dispute between Tether Ltd, the company behind the stablecoin Tether and the New York Attorney General's office – removing a potential systemic threat to cryptocurrency markets.
There were also strong recoveries elsewhere. Ether is back up at $1,700, ADA is over a dollar again, and BNB continues to look strong at around $270. The total market cap of the entire crypto market is back over $1.5 trillion again after dipping yesterday.
Start your investment journey into crypto with Luno with £10 on us…
If you've not started your crypto journey yet, we've joined forces with Luno to offer you £10 absolutely free. Click on the graphic below and simply use the code CITYAM10 when you sign up.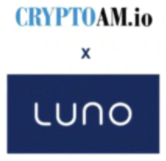 In the Markets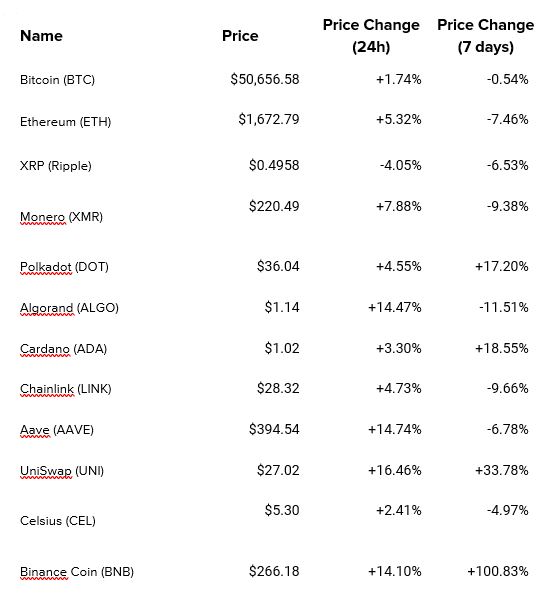 Crypto market cap: $1,543,312,863,326
MVIS CryptoCompare Digital Assets 100 Large-Cap Index +7.43
MVIS CryptoCompare Digital Assets 100 Small-Cap Index +10.58
MVIS CryptoCompare Ethereum VWAP Close Index +9.49
Prices and data as of [08:30, 24/02/2021] Source: CryptoCompare.com, MVIS
The Bitcoin Economy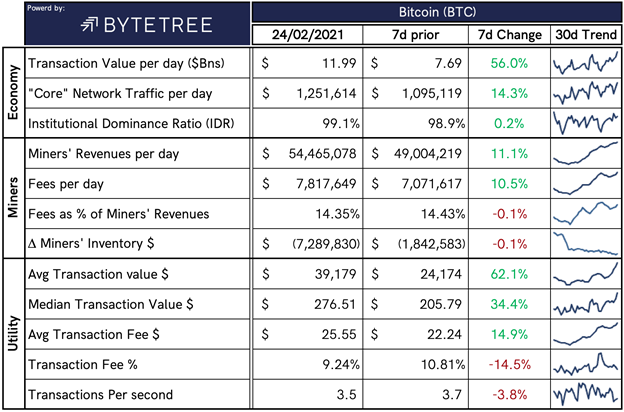 *Definitions and insights can be found at https://bytetree.com/insights/
What Bitcoin did yesterday
We closed yesterday, February 23 2021, at a price of $48,824.43 – down from $54,207.32 the day before.
The daily high yesterday was $54,204.93 and the daily low was $45,290.59.
This time last year, the price of Bitcoin closed the day at $9,924.52. In 2019, it was $4,142.53.
As of today, buying Bitcoin has been profitable for…
99.9% of all days since 2013-04-28.
Bitcoin market capitalisation
Bitcoin's market capitalisation is currently $944,091,976,749, up from $900,855,654,514 yesterday. That means it is still the eighth largest asset in the world by market cap, ahead of Tencent in ninth and more than $150 billion bigger than Facebook.
Bitcoin volume
The volume traded over the last 24 hours was $100,328,317,079, up from $98,418,440,819 yesterday. High volumes can indicate that a significant price movement has stronger support and is more likely to be sustained.
Volatility
The price volatility of Bitcoin over the last 30 days is 86.55%.
Fear and Greed Index