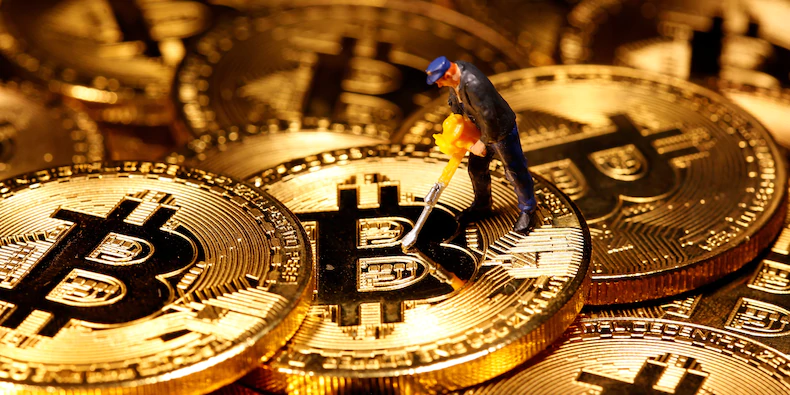 Bitcoin plunged as much as 18%, to $45,000, on Tuesday before slightly paring some losses as sky-high cryptocurrency valuations unnerved investors.
The cryptocurrency traded 13% lower, at $47,608.24, as of 11:45 p.m. in New York.
Bitcoin has soared in 2021, with the price more than doubling this year to reach a record $58,350.41. Increased interest from big companies such as Tesla, as well as record amounts of stimulus, have powered the rally.
Yet investors appeared to second-guess the record-breaking run on Monday, with bitcoin plunging from close to $58,000 to below $47,000 before recovering somewhat.
The fall coincided with a sharp drop in technology stocks that saw the US's Nasdaq index slide 2.46%, suggesting investors were becoming wary of the more expensive parts of the market. Both bitcoin and tech stocks slid again on Tuesday.
Expectations of stronger growth and inflation have boosted bond yields and made the more risky areas of the market look less attractive.
Elon Musk's comments over the weekend that bitcoin and rival token ether "seem high" appeared to trigger the latest move lower. The Tesla boss has played a large part in the cryptocurrency rally, and his words carry weight among many bitcoin enthusiasts.
Craig Erlam, senior market analyst at currency firm Oanda, said: "The fall that has taken place since shows just how wild an instrument it is, how overbought it had become and how influential the Tesla CEO now is in the space."
Treasury Secretary Janet Yellen also added to the wariness around cryptocurrencies, telling CNBC on Monday that bitcoin is "an extremely inefficient way of conducting transactions, and the amount of energy that's consumed in processing those transactions is staggering."
"I don't think that bitcoin… is widely used as a transaction mechanism," she said. "To the extent it is used, I fear it's often for illicit finance."
The ether (ETH) price also tumbled on Tuesday, with the Ethereum network's currency down around 8.9% to $1,557. XRP was down around 15% while Binance's coin was roughly 13% lower.
Pankaj Balani, chief executive of crypto derivatives exchange Delta, said the downward correction in bitcoin and other currencies had been coming.
"Some leverage has been cleared but the volatility should persist for a few sessions followed by a consolidation in BTC and ETH prices before the next move up."




Read more:Bitcoin plunges 18% as investors grow wary of record-breaking rally