In my last , I concluded, based on my Elliott Wave Principle work combined with Technical Analysis:
"Thus, as long as this week's low [$29,237] holds, we should expect BTC to start reaching for $55-65K for (red) intermediate-v of (black) major-3.

"If this week's low is broken, then the current correction is becoming more complex, and the next lower support zone at $23-22,000 should then be expected before the next rally starts."
Fast forward, that low held, and sits now at a new all-time high of $48K. Thus, from a trading perspective, you could have gone long BTC with a stop at that week's low and now be up over 35% since posting of my previous article. That is the power of EWP combined with technical analysis, having zero opinions and not wondering why an asset is up because the 'why' is immaterial to your trading. Remember, trading is about assessing the appropriate risk and knowing when to exit a position, especially when the price is below your entry point. The upside will take care of itself.
Figure 1: Daily candlestick chart, with detailed EWP count and technical indicators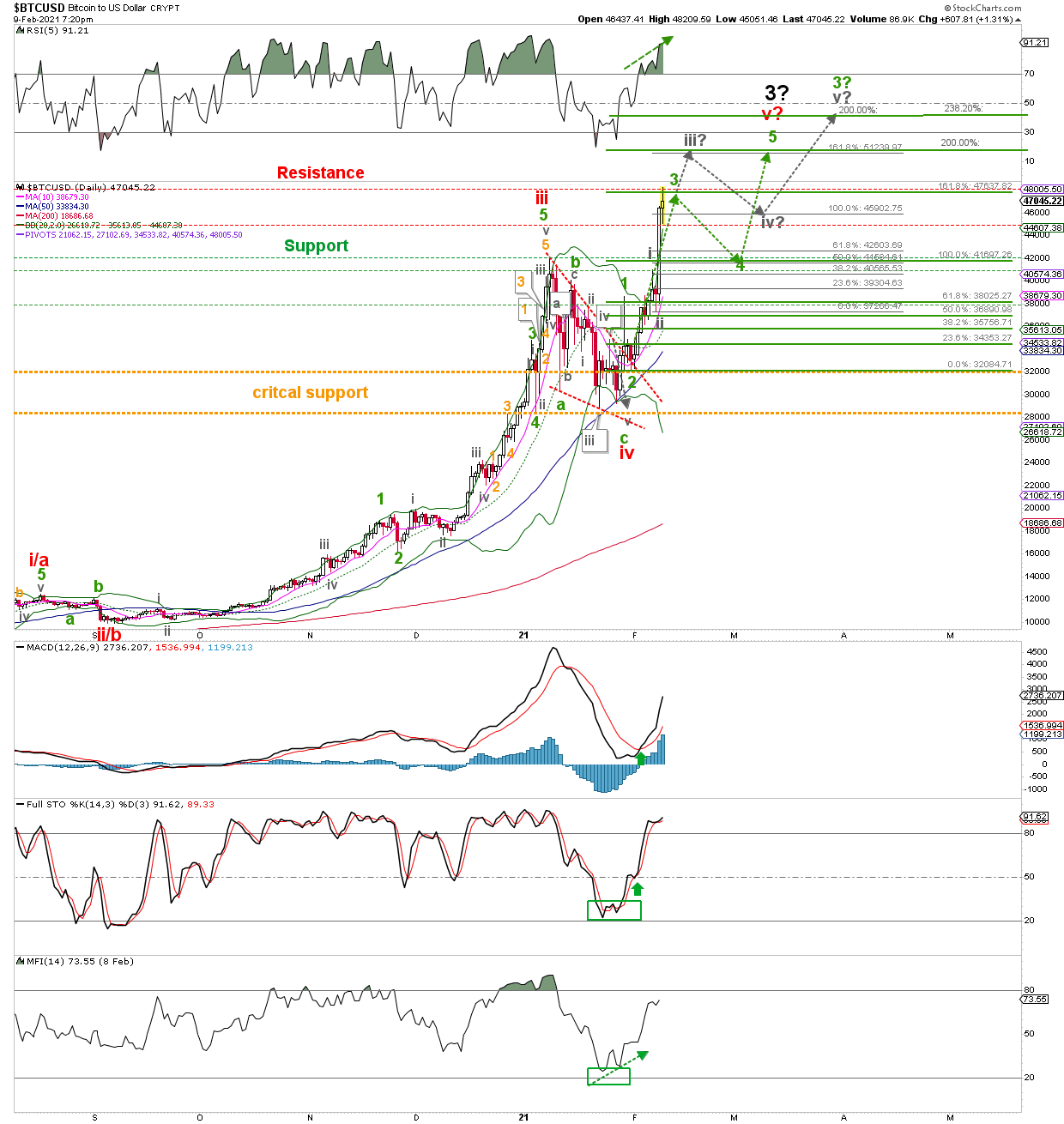 Thus, Bitcoin is, in my opinion, now in (green) minor wave-3 of (red) intermediate wave-v of (black) major-3. After major-3 comes 4, and then 5, which should complete a primary wave-III. Primary IV, V, Cycle-4, and 5 are then still yet to unfold before the bull that started since its inception has ended. Briefly, for the long-term investor, there is still a lot of upside left as long as critical support levels hold. But also expect bigger and bigger swings, especially corrections, going forward. Thus, swing traders should stay on their toes.
The question now is if minor wave-3 completed today and the green path/arrows are transpiring, or if green wave-3 is going to subdivide and the grey arrows will be the path from now on. The former suggests a pullback to ideally around $42K soon as a classic retest of the breakout above the previous all-time high. That would be minor wave-4 in EWP terms. Then, we should see a wave-5 to around $51500+/-100 before the next more extensive correction (major-4) unfolds.
However, the grey path has BTC rally to $51,500 more directly, followed by a pullback to ideally around today's price levels, before moving higher again and ultimately targeting $60,000-60,500 before this major-4 correction kicks in. A close below today's low first should be an early sign of the green path, whereas a close above today's high first ushers in the grey course.
Bottom line: Bitcoin held the lows and subsequently rallied as anticipated according to the outlined EWP count. It should now target either the low $50Ks or as high as the low $60Ks before the next more extensive correction kicks in. Keep a tab on which path BTC will take (green vs. grey), and you will know which level to expect. Move stops accordingly, take profits along the way, and there's little that can go wrong.
…



Read more:Bitcoin: Late-January Breakout Held. Now, On Its Way To $50K+ | Investing.com