Tuesday's bitcoin price whipsaw can be partially explained by large traders looking to deleverage in the derivatives market. 
Bitcoin (BTC) was changing hands around $9,512 as of 20:00 UTC (4 p.m. ET), slipping less than 1% over the previous 24 hours. 
A sudden rally to $10,000 late Monday boosted bullish sentiment as short sellers were squeezed on derivatives exchange BitMEX, the largest such event in eight months. Bitcoin traded as high as $10,430 on Coinbase. However, the market lost steam and bitcoin was then confined to a tight $10,000-$10,100 range for around 12 hours. Then, at 14:00 UTC (10:00 a.m. EDT) Tuesday, it suffered a drop of 8%, or $800, in less than five minutes. 
"Today's action is very fickle," said Katie Stockton of Fairfield Strategies. Stockton still sees bullish momentum and expects bitcoin to approach highs not seen since last year. "Specifically, $10,055 is a retracement level that is the last major hurdle to the high from 2019 near $13,850," she added.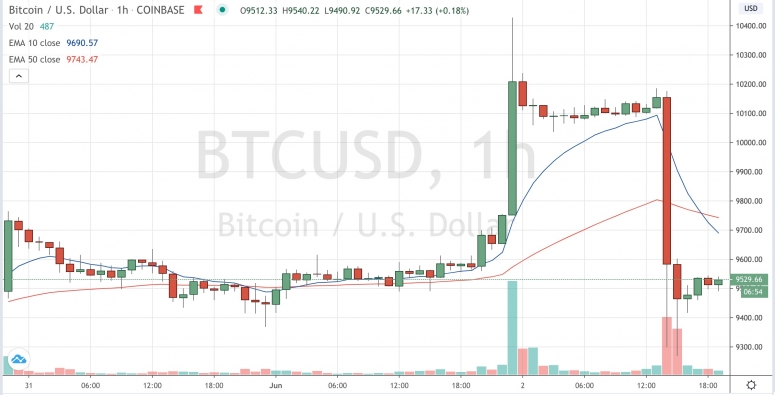 Bitcoin's sudden rise, then fall, was at least in part driven by liquidations on Seychelles-based derivatives exchange BitMEX. Over the past 24 hours, buy liquidations on BitMEX jumped during bitcoin's price rise, then sell liquidations surged as the world's oldest cryptocurrency dipped. Total buy liquidations over the past 24 hours were $131 million while sell liquidations were at $111 million. 
Liquidations on BitMEX are the equivalent of margin calls on conventional exchanges. A "buy liquidation" on a bitcoin contract is when a losing short position is forced to close, requiring purchases of bitcoin. When a "sell liquidation" occurs, those long bitcoin are forced to sell.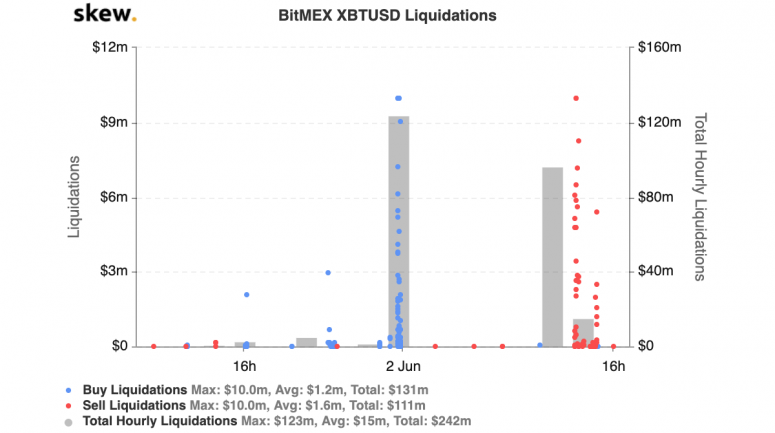 One analyst has a term for the recent large movements.  "It looks like a classic 'whack the beehive' trade," said George Clayton, managing partner of alternative asset fund Cryptanalysis Capital. 
Clayton suspects large spot traders are looking to liquidate BitMEX perpetual swaps that enable highly leveraged bets, up to 100x, on bitcoin's price going up or down. "Big traders are looking for stops or perpetual liquidations," he told CoinDesk. 
In all, $242 million in liquidations occurred over the last 24 hours, over 70% of the $339 million in total BitMEX liquidations for the past week.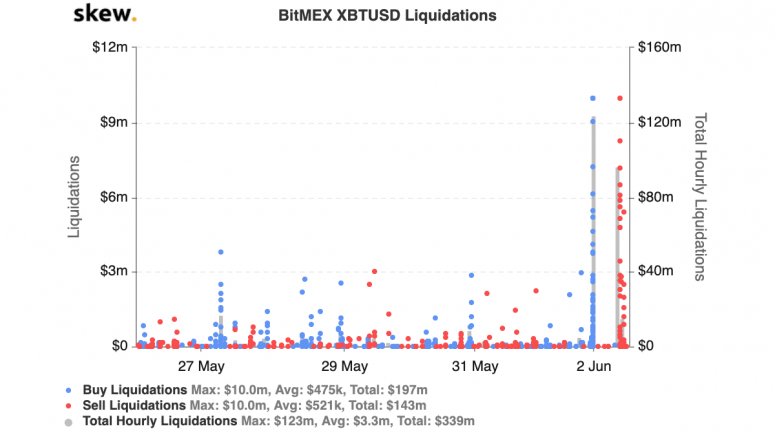 Vishal Shah, an options trader and founder of Polychain Capital-backed derivatives exchange Alpha5, is concerned about massive amounts of leverage looming in crypto. However, he told CoinDesk, the recent bitcoin price moves still have futures in "contango'" a market condition considered bullish as futures are traded higher than spot prices. "Even after the roundtrip, we retain a contango in the curve," he said. 
Read More: Bitcoin Can't Be a Safe Haven and 100x Leverage Is the Reason Why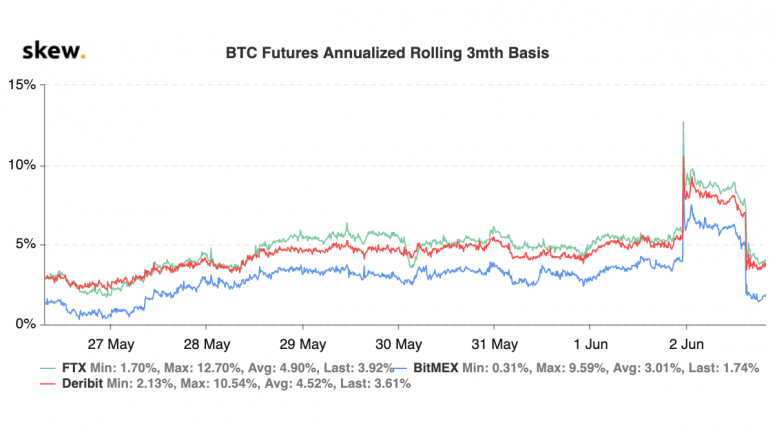 Read more:Market Wrap: Traders 'Whack the Beehive' as Bitcoin Surges Then Plunges - CoinDesk