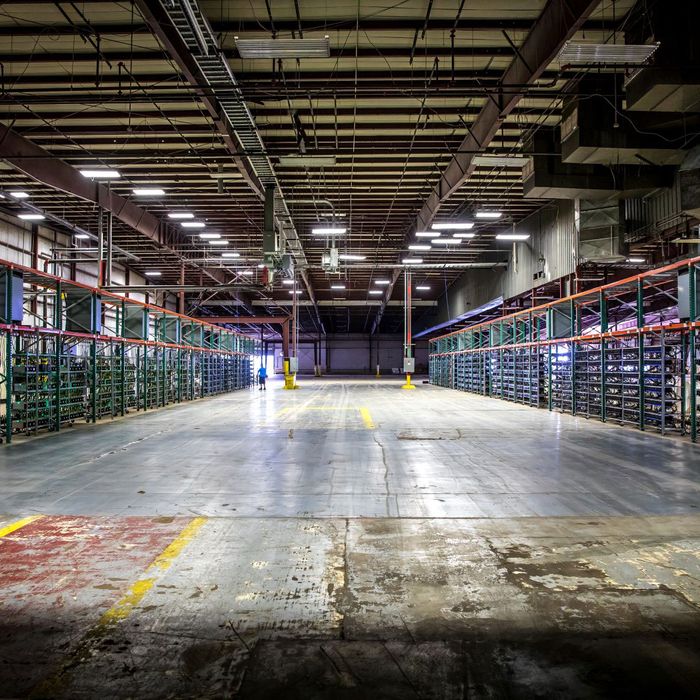 A World War II–era airplane hangar in Texas has been converted into a bitcoin mine.
Photo: Courtesy of Compute North
Nestled in the Appalachian Mountains near Marble, North Carolina, there's a 250,000-square-foot factory building that used to make denim for Levi's jeans. Starting in the 1960s, Levi Strauss built many plants like this across the American South — and then shuttered almost all of them in the 1990s and early 2000s, when it moved its manufacturing operations overseas. After this North Carolina factory closed in 1999, the building, which sits on 70 acres of land, stood empty for almost two decades. Then the crypto miners came to town.
In 2017, Darin Feinstein had just founded Core Scientific, which is now the one of largest crypto-mining companies in North America. At the time, the company was just getting ready to open its first facility, and Feinstein said they looked at more than 500 sites trying to find everything on a very particular wish list. First and foremost, they were looking for an inexpensive power source for the energy-intensive process of mining, which meant a more rural location, as electricity tends to be cheaper farther from major cities. Ideally, they would also find existing infrastructure that could be converted for the mine's purposes: a large empty building that could be filled with shoebox-size computers, vents that could be used for thermodynamic cooling, and land for potential expansion.
In the abandoned Levi's factory, Feinstein found all of the above. The sprawling building would fit plenty of computers, but the main selling point was proximity to a series of hydroelectric dams. They had helped power the factory but have been used much less since Levi's left town. This kind of "stranded power," or a dormant energy facility with all the infrastructure already in place, is exactly what miners are looking for. So Core Scientific bought the old denim mill and filled it with computers, which have been whirring away constantly ever since, "mining" new bitcoin, litecoin, ethereum, and monero with each complex math problem they solve.
In the last year, cryptocurrencies like these have hit wildly high prices on crypto exchanges, leading to a craze that has spawned a host of new currencies, and given rise to feverish speculation on blockchain-backed NFTs. The high prices have also led to a boom in mining operations — and a hot new real-estate market for former industrial spaces to convert into mining facilities. "We've produced enough machines now" to meet the demand for new crypto mines, said Mike Colyer, CEO of Foundry, a mining outfit that provides equipment financing and advisory services to other miners. "But people don't have anywhere to plug them in."
Many former factories are owned by private…


Read more:Got an Old Power Plant Lying Around? Crypto Miners Are Buying Them Up