Crypto at a glance
The crypto markets continued to drift sideways yesterday, with Bitcoin again failing to break past $35k but holding strong at $33k. The short-term volatility is now down to a two-month low and is approaching the lows of 2021, according to an Arcane Research report released yesterday.
The report also notes that it was a similar story last July. Are we setting up for another sideways summer month? Or is this the calm before the storm?
It's a similar pattern everywhere this morning, with swings of just one or two per cent in either direction for the likes of Ethereum and Cardano too. The big news yesterday was that Ethereum's long-awaited London hard fork is likely to launch on August 4.
The upgrade has been long awaited by the Ethereum community, and is expected to have a number of changes to the way the network operates. This includes the introduction of a "base fee" structure in order to control the rapid surge in ETH gas fees.
The upgrade will also see the introduction of EIP-1559, which will see a portion of the fee collected from Ethereum users burned to control supply. This is something institutional investors seem particularly bullish on, as it will increase its credentials as a store-of-value. Saxo Bank's cryptocurrency analyst Mads Eberhardt said in a note on Monday that "The London update also puts pressure on the store-of-value narrative in regards to Bitcoin, as the Ethereum inflation will likely fall to the level of Bitcoin, while the Ethereum network is having a higher demand for transactions."
Will they be proved correct?

Would you like to help spread the adoption and education of Bitcoin in the UK and even stack some Sats while you're doing it? Well, now you can!
The Bitcoin Pioneers community, backed by Barry Silbert's Digital Currency Group, was created to introduce Bitcoin to a mainstream audience in a meaningful way and now has members right across the UK.
We share tips, stories and ideas on how to encourage others to try Bitcoin for the first time. And, thanks to support from Luno, each Pioneer gets £500 of Bitcoin a month to share with beginners, helping them get started.
So, if you're passionate about Bitcoin, why not join today? Click here to find out more!
All feedback on Crypto AM Daily in association with Luno is welcome via email to James.Bowater@cityam.com 🙏🏻
Yesterday's Crypto AM Daily in association with Luno…
In the markets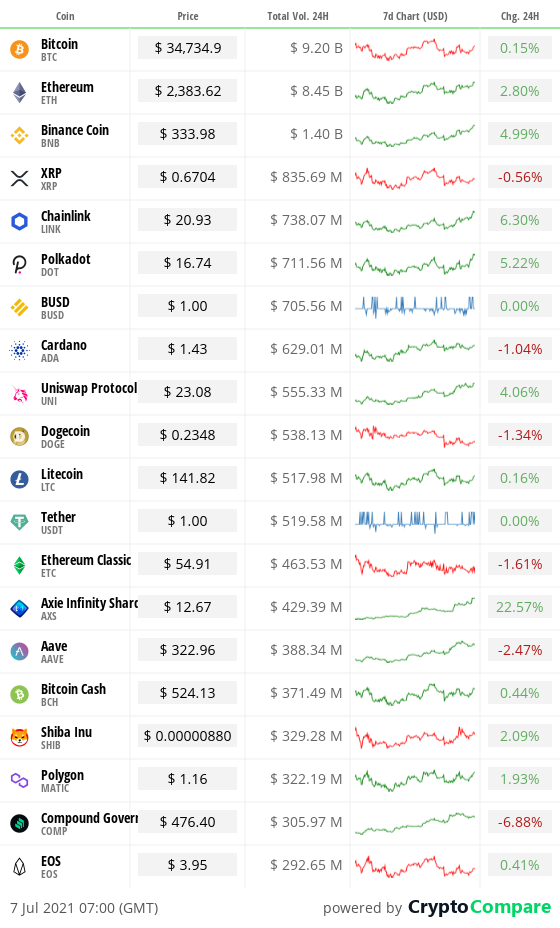 The Bitcoin economy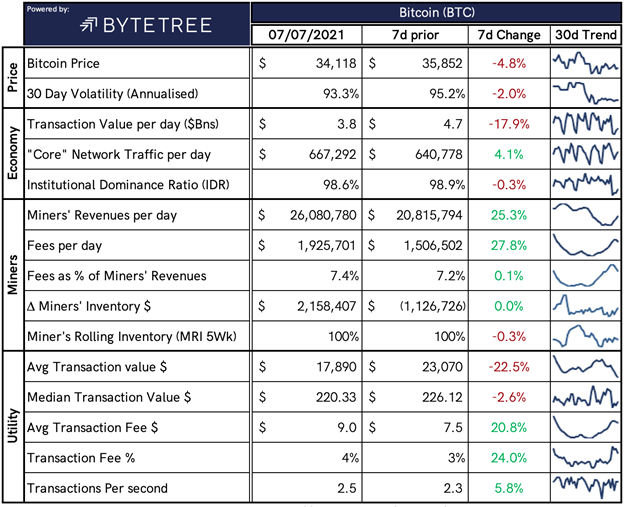 *Definitions and insights can be found at https://bytetree.com/insights/
Total crypto market cap
The total capitalisation of the entire cryptocurrency market at time of writing is currently $1,476,329,521,324.
What Bitcoin did yesterday
We closed yesterday, July 6 2021, at a price of $34,235.19, up from $33,746.00, the day before.
The daily high yesterday was $35,038.54 and the daily low was $33,599.92.
This time last year, the price…


Read more:Ethereum upgrade incoming, but crypto markets continue sideways – CityAM