Blockchain's Big Thinkers Predict the Post-COVID-19 World under Seven Themes
More Than A Hundred New Speakers Confirmed with "Crypto Mom" Hester M. Peirce To Speak on Digital Assets Regulation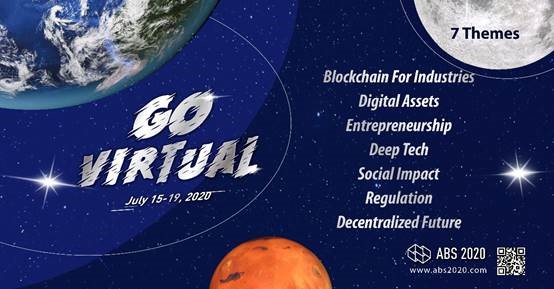 Will 2020 be the year blockchain goes from a buzzword to necessity? The ongoing COVID-19 crisis is exposing deep cracks in every aspect of our modern society, including economy, politics, social structures, and institutions.
With its hallmark features being security, decentralization, and immutability, blockchain has a lot to help and could be a force for a better post-COVID-19 world, offering innovative solutions to age-old and emerging issues such as cybersecurity, data privacy, supply chain transparency, surveillance, and inclusive finance.
The only question is: can blockchain move beyond proof of concept and break the catch-22 of real-world adoption?
Asia Blockchain Summit, the world's leading gathering of professionals involved in blockchain and emerging technologies, is going to tackle just that.
Real-world Adoption Decoded Under Seven Tracks
In its first virtual edition scheduled for July 15-19, Asia Blockchain Summit 2020 (ABS2020) will feature seven speaking tracks in its 5-day conference in parallel with interactive workshops, demos, AMAs, and online meetups run by attending companies.
The tracks will deliver thought-provoking keynote speeches, fireside chats, and panel discussions on the given topics including:
Blockchain For Industries (Day 1, July 15) – A diverse range of industries and businesses are starting to see the potential of blockchain, from banking and insurance all the way to healthcare, energy, telecoms, retail, and real estate. The track will feature blockchain explorations and insights from including various industry leaders including Société Générale, Qatar Development Bank, Mastercard, and Boston Consulting Group.
Digital Assets (Day 2, July 16) – Heightened uncertainties surrounding COVID-19 has forced people to rethink safe-haven assets and given rise to new a market trend – central bank digital currencies (CBDCs). The track will examine recent developments and what's next for the crypto market, unfolding links with financial markets and the economy. 
Deep Tech (Day 3, July 17) – The track will focus on two angles: 1) the technical difficulties of decentralized technologies in terms of security, scalability, reliability and decentralization and 2) what blockchain can achieve in an interplay with other emerging technologies including 5G, AI, big data analytics, cloud, IoT, and robotics.
Entrepreneurship (Day3, July 17) – Extreme times call for extreme leadership. How will you show up and lead your teams through the global pandemic to ensure your teams come out of it stronger? Listen to experts as well as your industry peers on competition, innovation, fundraising, marketing, women in tech, and more.
Social Impact (Day 4, July 18) – The track will look into impactful applications of…


Read more:Speaking Tracks, New Speakers Announced for ABS2020 – Get Ready for the Blockchain