2020 is an eventful year, not only on the global scale but also to the crypto world. First, we witnessed bitcoin getting its price cut in half in March, then we welcomed the third halving whose impact has not yet been shown. But this year, bitcoin doesn't get to hog the limelight – Ethereum is about to release its 2.0 version, while Tether has more than doubled its market cap from $4 billion to $9.41 billion in the past 3 months. 
According to the data of Coincodex.com, the total market cap of Tether (USDT) stayed at around $4 billion since July 2019. Then on March 18, a few days after the great crash of bitcoin, Tether picked up its pace in minting new coins. By June 8, the market cap of Tether had reached $9.41 billion, increasing by 129%. Such a significant boost naturally aroused heated debates about the cryptocurrency market and a majority of investors believe the boost of stablecoins' supply is a signal for the long-waited Bitcoin bull.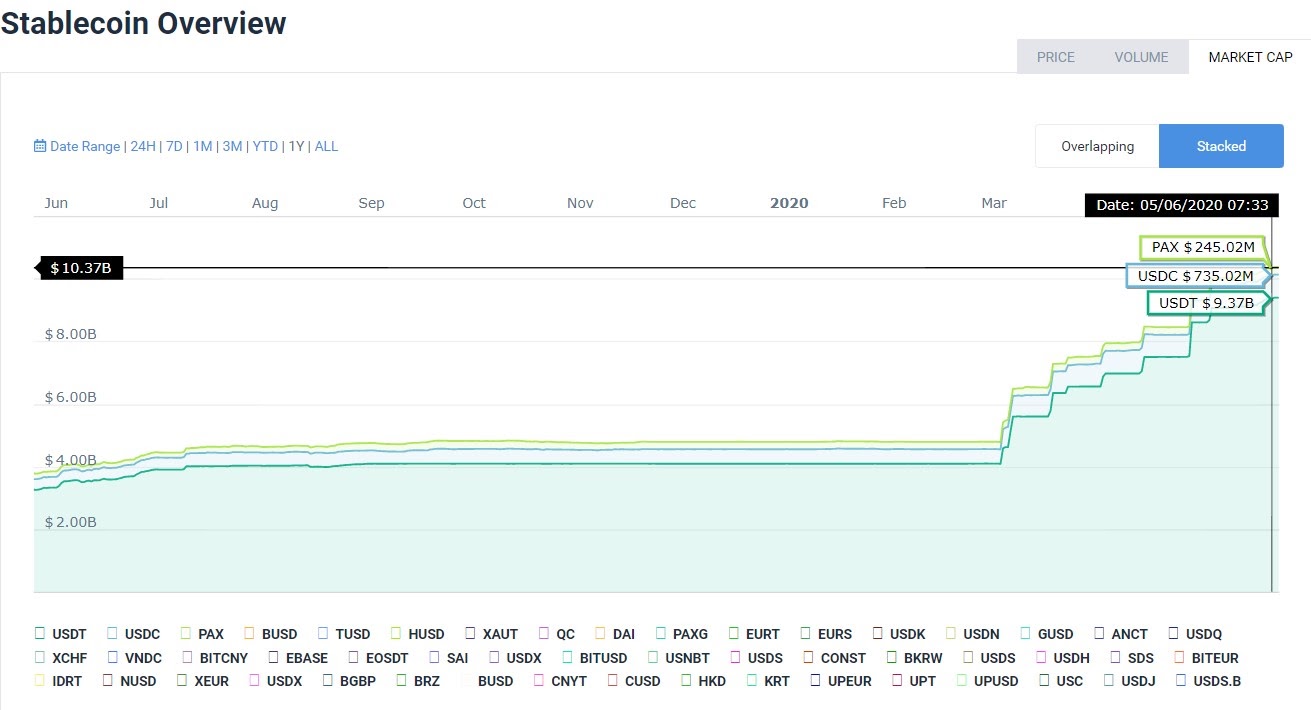 Bloomberg: "Bitcoin Appreciation Tethered to Stable Coins. "
Stablecoins are widely used as a de facto form of cash in the cryptocurrency market.  Since their market value is pegged to some external reference, they are more "stable" in price compared with Bitcoin. Compared with fiat money, they have the advantages of blockchain digital assets in instantaneous money movement and easier payments, which enable traders to easily convert their stablecoins into fiat money or other cryptocurrencies. Besides, in some countries such as China and Russia where Bitcoin is banned from banking transactions, traders tend to exchange their fiat into stablecoins, hold them, and buy other cryptocurrencies when the right time comes. 
In a recent report, Bloomberg recognizes the correlation between Tether and Bitcoin's price movements, stating that "Interest in digital links to the dollar represents the need to transact and store value in the world's reserve currency without an intermediary. We can't help but draw parallels to the adoption of paper currencies throughout history as the world today moves rapidly toward digitization."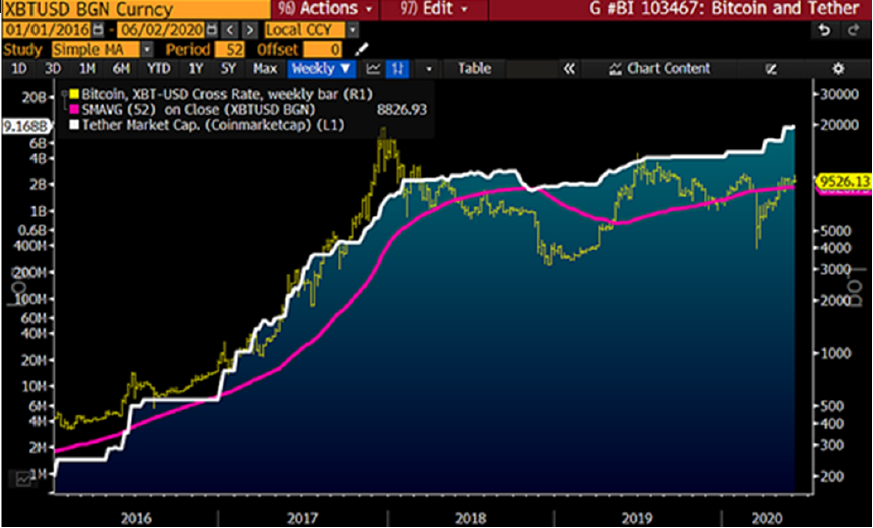 Correlation between BTC and USDT. Source: Bloomberg.
With Tether gaining more recognition it deserves, it has the potential to surpass Ethereum and take the No.2 spot in the crypto asset, following behind Bitcoin the crypto king. 
The Market is Gearing Up for a Bitcoin Bull
Usually, when the price of Bitcoin goes up, the same amount of Bitcoin requires traders to pay more, so more fiat money would need to flow into the market, thus driving the supply of Tether up. In turn, the increased supply of Tether could foreshadow a rise in Bitcoin's price. 
Many critics consider the new issuance of Tether the result of growing confidence in Bitcoin's price expansion after the halving, as traders in anticipation of a bull market will get prepared to funneling their Tether into Bitcoin. This hypothesis is supported by a survey by Glassnode, in which data showed an…


Read more:Tether Could Surpass Ethereum, Further Fueling the Demand of Bitcoin