The following is a contributed article from a content partner of Benzinga
The general trading direction of bitcoin has been mixed through 2020. The largest cryptocurrency by market cap started the year in a rally from a December low of a little under $6,900 and, by February, it had crested the $10,000 level. Then the pandemic set in and sent prices throughout the investment world into a frenzy, pushing the price of bitcoin to a 200-day low.
Nevertheless, bitcoin rebounded and now sits with about 36.16% in gains year-to-date, hovering at that same 10,000 its seen several times now in the past 12 months. Those who trade bitcoin have no doubt observed that the price of the cryptocurrency has struggled to maintain its value past psychological resistance at the $10,000 price point. Over the last four weeks, bitcoin has been finding support around $8,600 but has failed to break out convincingly above the resistance at $10,000.
The bitcoin halving event that happened last month was a big deal, and in the weeks leading up to the halving, there were many predictions about how the halving will send the price of bitcoin to the moon. However, the halving has happened, and bitcoin is still finding it hard to build the momentum for a post-halving rally.
This piece explores why bitcoin seems to be stuck in a range and how a breakout above $10,000 might be the lynchpin to the explosion of a post-halving boom.
The $10,000 Level: Breakout Or Breakdown?
On Monday, June 2, bitcoin recorded a sudden surge that pushed its price above $10,000 – a move that emboldened the bulls while simultaneously squeezing short-sellers.
However, the rally peaked around $10,428 and the trading price slumped by 8% in less than 5 minutes to return bitcoin back to the $9,500 range. It appears that one of the reasons bitcoin can't seem to make up its mind for a post-halving rally is the effect of the price action in the fight for market dominance between retail traders of bitcoin and those with the capital to make bigger wagers on the cryptocurrency: whales and professional traders.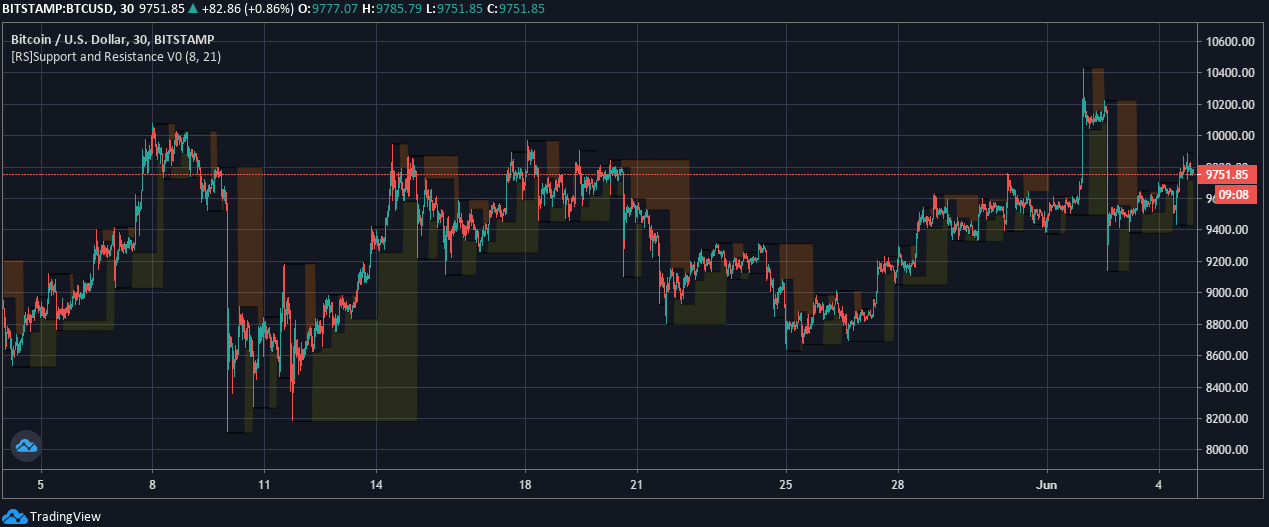 The chart above superimposes the support and resistance range on the trading price of bitcoin over the past 30 days. From the chart, bitcoin currently has solid support around $9400, the support at $9,200 is thin, and $9000 is not off the table. There's significant resistance at $10,200, but a breakout above $10,400 could leave the bears in the dust.
One the one hand, the bitcoin whales and professional traders seem to be shorting into $10,000, and on the other hand, retail investors seem to be under-allocating funds above $10,000. The counterbalancing effect of the market dynamics of buy- and sell-sides of $10,000 appear to be the main reason bitcoin is stuck in a range.
The short-term fate of bitcoin seems to be dependent on which of the two camps is able to exert the strongest market-making pressure that will force the other side to give up. If the sell-side pressure continues to rise,…


Read more:Bitcoin's $10,000 Psychological Level: Retail Investors Vs Whales And Professional