Crypto trading platform BitMEX has lately been fully involved into lawsuits. Due to this fact some users are starting to think of moving to other exchanges. Bexplus could become a good alternative.
The established crypto trading platform BitMEX is hit with a lawsuit, again. The lawsuit was filed by plaintiff BMA LLC in California. The 106-page lawsuit accused BitMEX of market manipulation, money laundering, and racketeering, among many others.
The plaintiff claims that the index price of the exchange is "based on the prices of two or three illiquid spot exchanges, enabling manipulators and money launderers to avoid detection".
Usually, the market quote of exchanges are aligned with their liquidity providers of different ratios and data weight. This enables exchanges to provide the most up-to-date market price. Unclear or less updated market quotes could mislead traders and affect their judgment. Worse still, there are rumors that some illegal exchanges have manipulated the price to trigger the liquidation of traders' positions. Therefore, it is advised to do some check on trading platforms' quoting system before depositing your funds.
The past few years have been eventful for BitMEX. In 2019, BitMEX faced a few scandals, one of which accusing BitMEX of intentionally liquidating clients for profits. Then several months later, there has been a large leak of user data and its Twitter account was hacked. This incident aroused widespread concern for the security of trading platforms.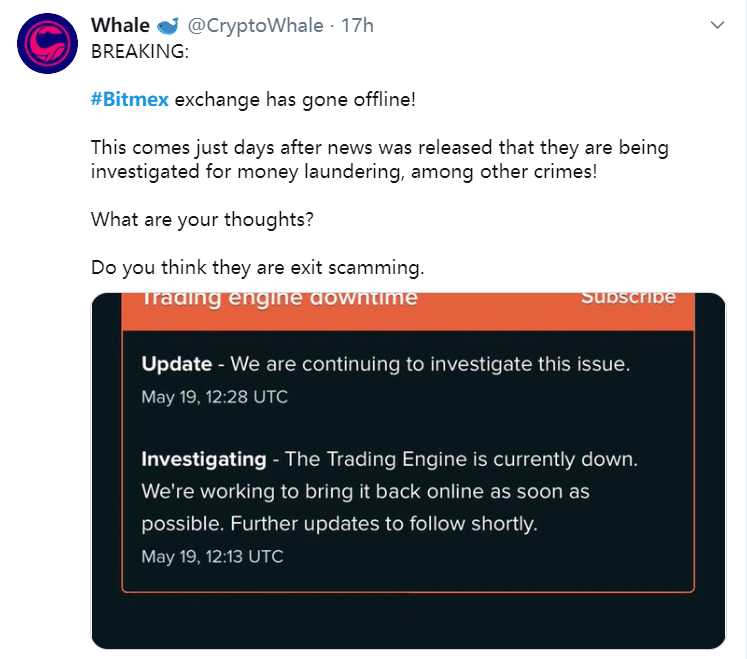 One day after the lawsuit, BitMEX's trading engine was down. The exchange has been down several times in the past few months. On March 13, it went offline for half an hour during a period of extreme volatility. Troubled by the legal and technical uncertainties of BitMEX, traders might turn to other trading platforms.
BitMEX is down, where to next?
The scandals of BitMEX raise some serious red flags. Fortunately, there are many mature trading exchanges providing secure and transparent margin trading services.
One of the most worth-trying exchanges is Bexplus, a Bitcoin-based cryptocurrency exchange offering 100x leverage perpetual contracts trading to 5 mainstream cryptocurrencies, including BTC, ETH, LTC, EOS, and XRP. Headquartered in Hong Kong and established in late 2017, Bexplus provides services worldwide, including the U.S., Japan, Iran, Korea, and Saudi Arabia. With no KYC requirements, traders can register with their e-mail and start trading within minutes.
The user-friendly and full-featured UI of Bexplus caters to the needs of not only veterans but also beginners. Users can quickly familiarize themselves with the UI by working through the trading simulator. If you are keen on analyzing the market trends, there are a variety of drawing tools and indicators to choose from.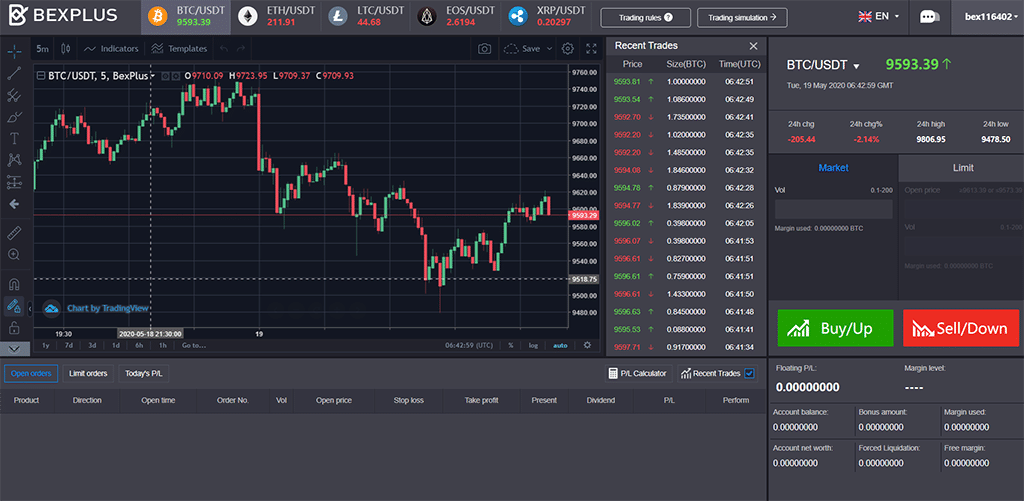 Bexplus's market quotes are integrated from five top exchanges in the world based on different ratios and data weight, making its market quotes transparent and up-to-date. As for…


Read more:BitMEX Gets Stuck in Lawsuit, Is It Time to Leave for Good?